E-GRESS Frost-Free Roof Hatch Skylight
HL-FF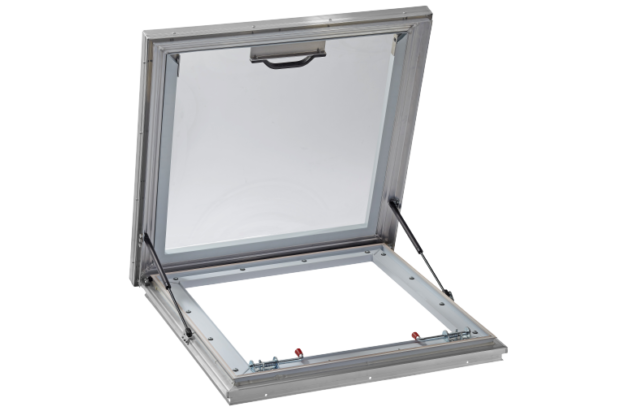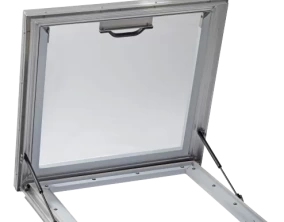 ---
Product Details for E-GRESS Frost-Free Roof Hatch Skylight |
HL-FF
Our E-GRESS Frost-Free Roof Hatch Skylights are essential for any commercial or residential flat roof that may be difficult to access via an exterior ladder. This skylight model is ideal for large homes with roofs that cannot be easily accessed via a ladder or for any commercial/institutional style building that requires maintenance workers, roofing contractors, or other labourers to continually access rooftops via a safe, internal staircase or ladderway.
The construction of this skylight is of high-grade and sturdy materials. Unlike most common steel hatches, we utilize our Frost-Free Thermal Technology to keep the cold weather isolated from the warm interior environment to reduce excessive condensation and negate any interior frosting during the winter months. Our curb frame is a heavy gauge aluminum extrusion fitted with a PVC thermal break that is designed to mount to 1 ½" (38mm) wide curbs. The glazing consists of dual-layer UV-stabilized acrylic lenses which provide much needed daily light when working in the interior of the hatch. To open the unit, a large ergo-grip handle is easily accessible, and with the assistance of gas-loaded pistons positioned on either end, opening and closing operations are smooth and effortless. The gas-loaded pistons are mounted for a 70° opening radius, but an optional 90° operation is available. Finally, large heavy-duty spring-loaded security bolts help keep the skylight lid locked when in its closed position.
This skylight option provides an easy-to-use E-GRESS accessibility to any rooftop with the added benefit of natural daylight. Recommended for any house or commercial building but would work exceptionally well installed in attic spaces, top-floor lofts, rooftop patios, maintenance rooms, and rooftop access.
Artistic Skylight® offers the widest range of customization with multiple frame finishes, acrylic upgrades, and standard and custom sizes available for this model.
*Please note that this skylight is not designed nor should it be used as a venting skylight. Please refer to our venting skylight product pages.
Options & Specifications
Features
Ideal For Flat Roofs
Access For Hard-To-Reach Roofs
Recommended Use
Large Buildings
Multi-Story Homes
Lofts
Rooftop Patios
Maintenance Rooms
Attic Spaces
Frame Options
Glazing Options
Product Options & Specifications
Interested in the E-GRESS Frost-Free Roof Hatch Skylight?
Get a Quote